Are you considering buying a motorhome or campervan? If so, we highly recommend you hire one before you buy one, and here's why…
Motorhomes are a huge investment, even when buying a used vehicle. Therefore, you need to know that it is definitely for you, and also to help you to choose the best motorhome for you.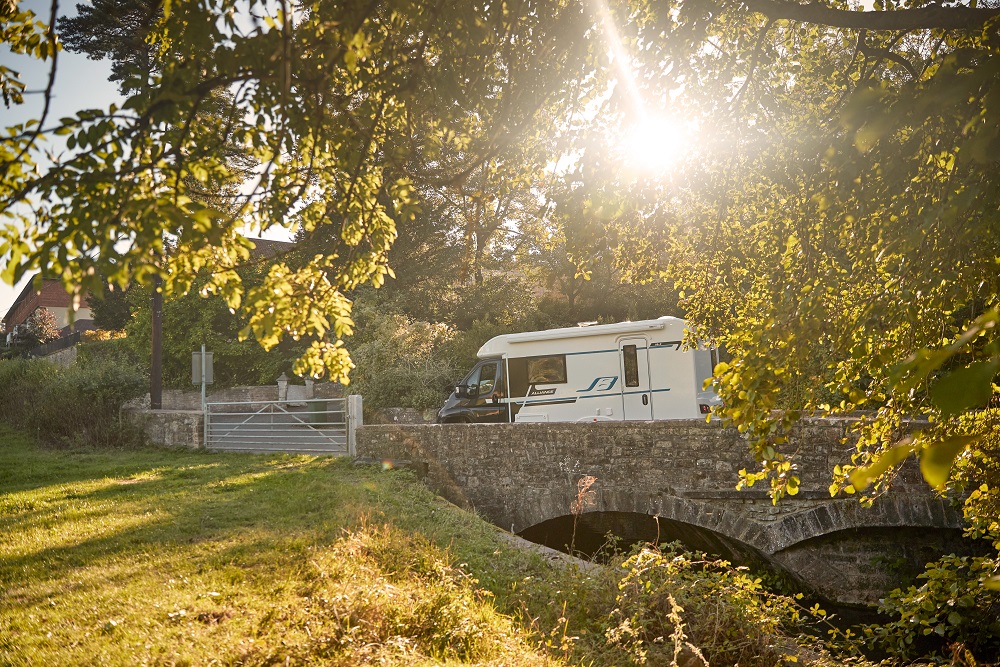 Driving a Large Vehicle
Many people will not be used to driving such a large vehicle, whether in terms of length, width or height. Some vans also have a really long overhang at the rear, which is an additional consideration when driving.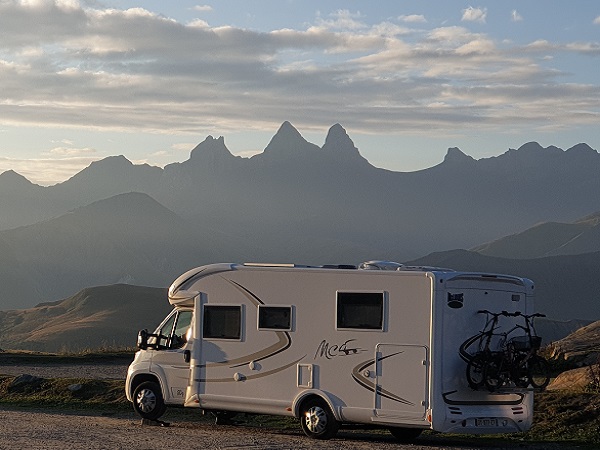 It's not just the general driving either, it's manoevering, parking and being aware of potential limitations as to where you might be able to go.
You need to be sure that you feel happy and confident driving such a large vehicle, otherwise it just won't get any use, or you could end up damaging your van, which could be very costly.
Hiring a motorhome or campervan can either give you that confidence, or actually help you to decide it's not for you after all.
Driving Position and Comfort
You want to make sure you find the motorhome comfortable to drive for long distances, so it's a good idea to hire a motorhome that has the same base vehicle as the one you're thinking of buying where possible.
Most base vehicles for motorhomes are either the Fiat Ducato, Peugeot Boxer or Ford Transit.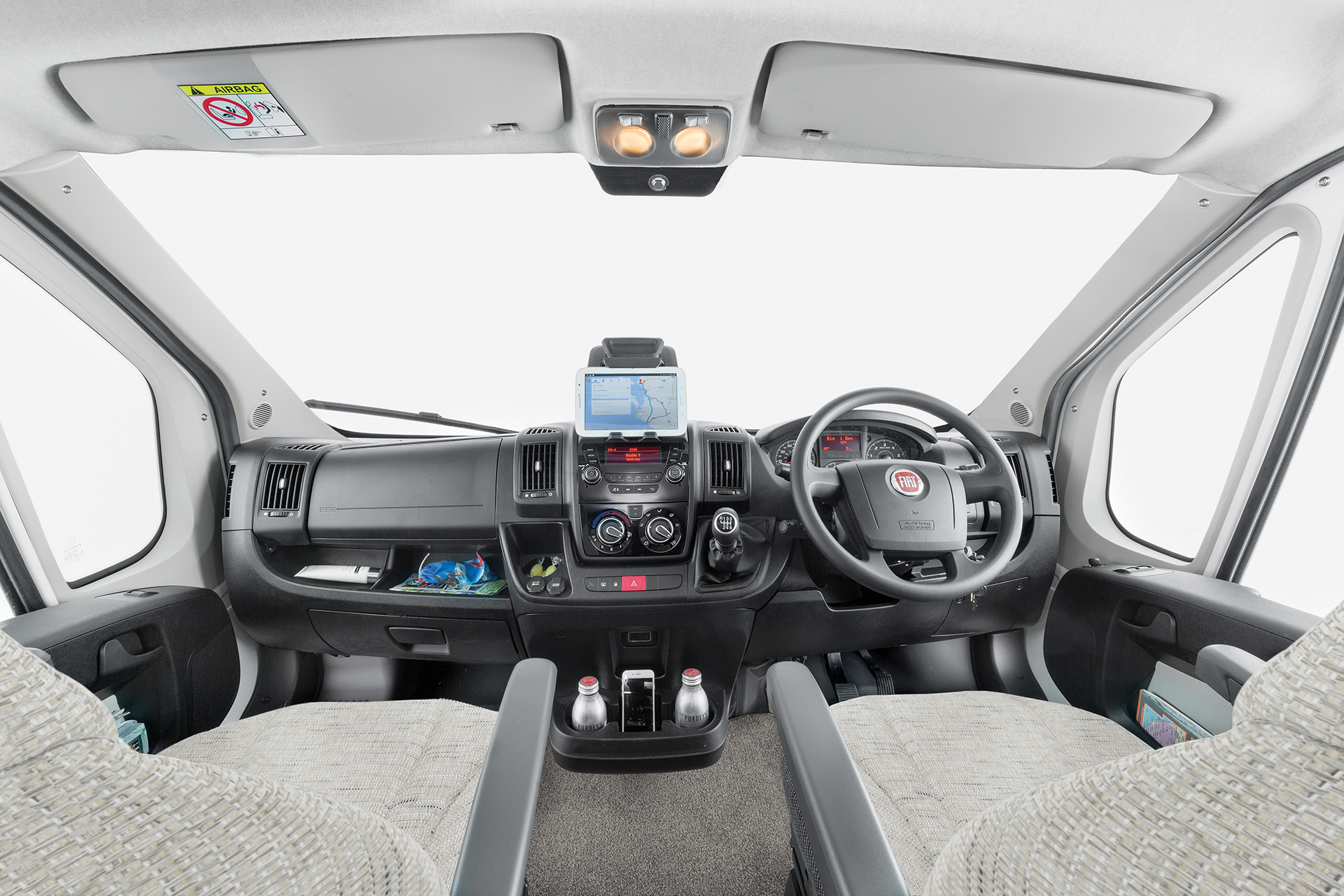 Motorhome Lifestyle
Having a motorhome is much more than a vehicle to go on holiday in, it is actually a lifestyle in and of itself.
There is a huge community of people who live the motorhome lifestyle, whether that's your weekend warriors, people who go away for a few weeks or a few months at a time, to people on long-term tours, and even those who live and travel in their vans full-time.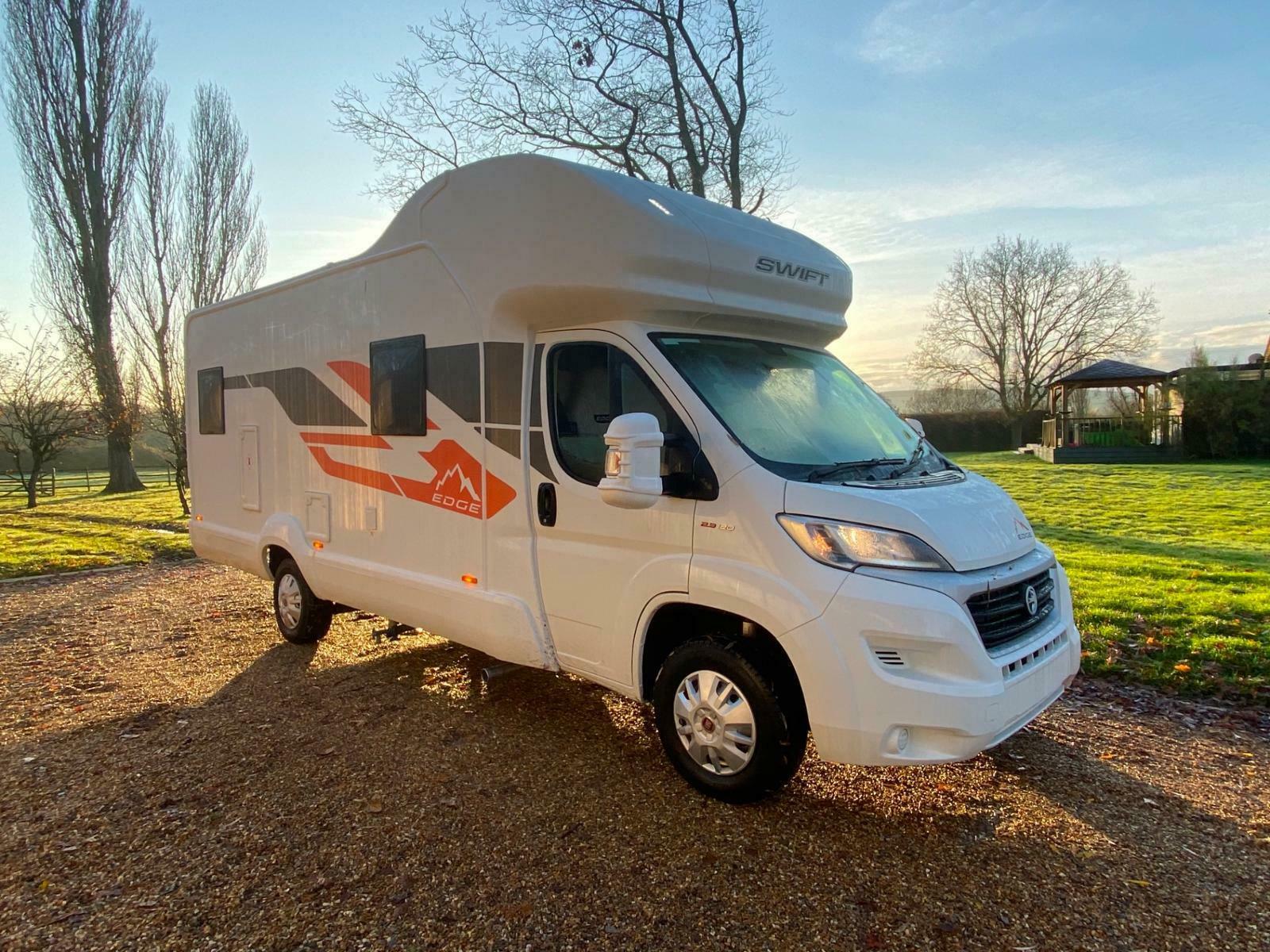 You might prefer to travel and stay on one campsite, or part of the appeal of a motorhome might be the freedom it brings – being able to park up and have a different view every morning.
Either way, it is good to have an idea how you intend to use your motorhome, and also ensure that you enjoy the lifestyle itself.
You won't really know this until you have stayed in a van for a few days or more and had the experience of finding park ups, connecting to electric, filling up your fresh water and emptying your waste water, emptying your loo, keeping your devices charged etc. 
It can require more planning than you might think. If you're used to staying in a caravan and just being in the one place all the time, or even camping or staying in a hotel, travelling in a motorhome can be a very different experience.
We have had customers who had looked forward to buying a motorhome for years, and then 3 days into hiring one realised it wasn't for them after all. It is definitely much better to realise that with a hire vehicle than one you have just forked out your hard-earned savings on.
It is often not until you have spent some time in a motorhome that you truly come to know what you want from one, in terms of layout, bed type, storage, bathroom etc.
For example, would you prefer a fixed rear bed that you don't have to make up every day?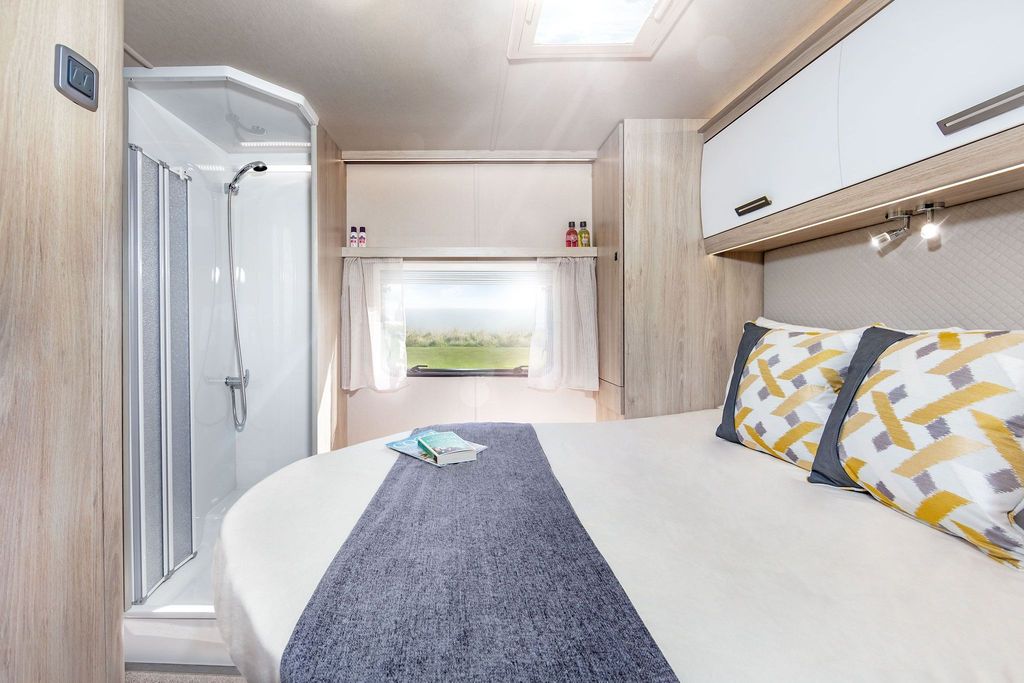 If so, would you want an island bed, or are you happy with a French bed (a fixed double bed going across one corner).
Some motorhomes even have twin or bunk bed options, much like you might find in a caravan.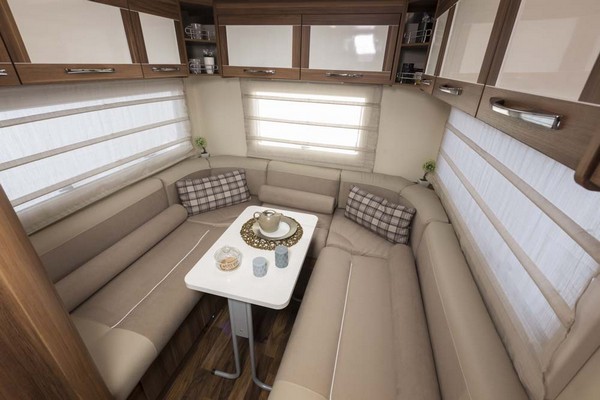 Alternatively, would you prefer a seating area at the back, that gives you extra space during the day and evening (ideal if you have a large family or several adults), but then converts into a large double bed at night?
Until you've had to make the bed up every night for a week, you might not know whether this layout would work for you or not.
With regards to your shower and toilet facilities, many motorhomes have a combined shower and toilet – some are more open like a wet room, others have an actual shower cubicle inside.
Whereas, some motorhomes have a separate toilet on one side of the van and a shower cubicle on the other.
Whilst that may sound a good option, the individual shower cubicles can be quite compact, so make sure there's enough room for you to shut the doors, if that's your preferred choice.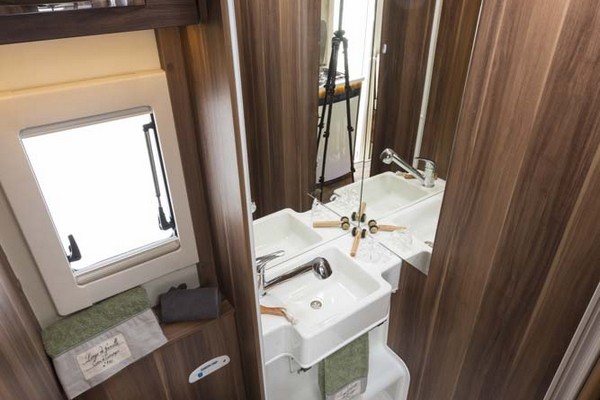 Other things to discover during your motorhome hire are fridge/freezer size, amount and location of storage, overall comfort and general ease of use.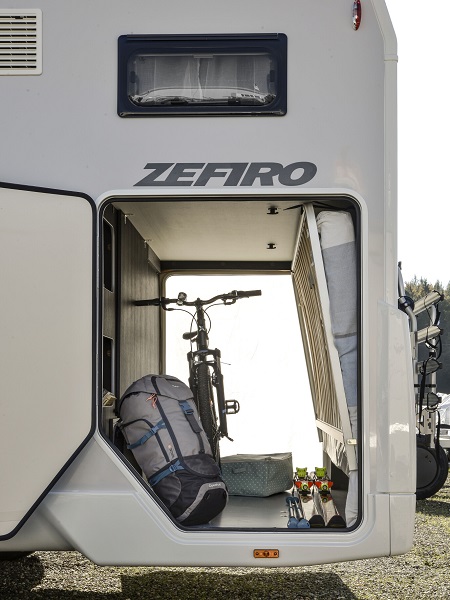 Not all motorhomes have externally accessed storage compartments, otherwise known as your 'garage' in motorhoming terms. This is particularly so in some motorhome models with a rear seating area, where all of the storage is under the seats, and not accessible from the outside.
That's not very practical if you have large sporting equipment, a barbecue, kids gear and so on. It's OK for a couple of folding chairs, your walking boots, and a few extra bits and bobs.
However, if you have a lot of sports equipment, a push chair, or a large barbecue, sun loungers etc, you will need a motorhome with a decent sized garage, ideally accessed from both sides.
Many garages come with power points, lights and heating inside, so are perfect for drying wet equipment, charging your e-bike or inflating your SUP board.
With some motorhomes, like the Rollerteam Zefiro 675, the rear garage even has a fold down bed, which can make an extra bunk if you wish, giving you even more flexibility in your living space. Hire one from Cumbria Motorhome Hire (Lily – 6 berth), if you're looking for a really versatile van, for multiple uses.
Do bear in mind though, motorhomes with large garages often have a higher rear bed inside, so make sure you're happy with slightly less headroom than you might have otherwise – another good reason to hire a motorhome before you buy.
Depending on your driving licence, you may be restricted to driving a motorhome with a maximum weight of 3500KG (3.5 tons), which fortunately most motorhomes are.
However, some weigh more than that, which you wouldn't be able to drive on a more recent driving licence. Therefore, it's always important to check this when choosing a motorhome, either for hire or to buy.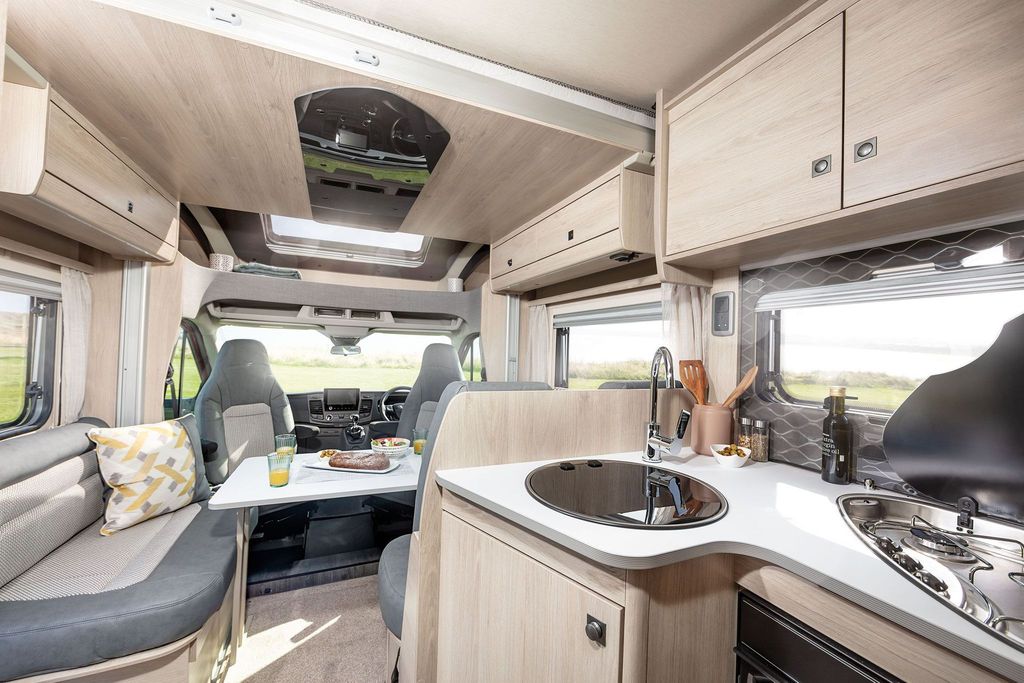 All motorhomes at Cumbria Motorhome Hire are under 3500KG, so can be driven on a standard driving licence.
As mentioned, you might initially think something will be fine, but once you have done it repeatedly for several days – such as making/taking down the bed, constantly shifting stuff around in storage to get to what you want, or dragging stuff from inside the van to use outside – you might soon find yourself getting fed up.
That's why making sure you get the right motorhome layout for you is so important. We want you to love every minute of your motorhome experience!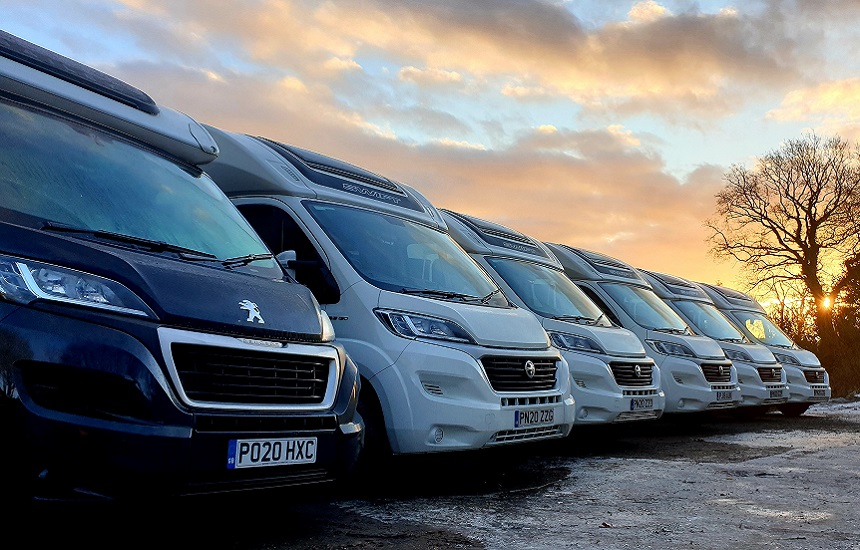 However, until you have spent at least several days in a motorhome or campervan, you're really not going to know what might work for you and what really doesn't, so hiring before you buy a motorhome really does make sense!
If you have been on the fence about getting a motorhome of your own, and would like to try the experience for yourself, then do get in touch!
How to Get Your Motorhome Hire for Free!
If you hire a motorhome from Cumbria Motorhome Hire, then go on to purchase a new or used motorhome from our sister company, Bardsea Leisure, also located in Ulverston just a couple of miles from our hire base – you will receive the cost of your motorhome hire (up to a maximum of £1500) off your motorhome purchase.
So what have you got to lose!