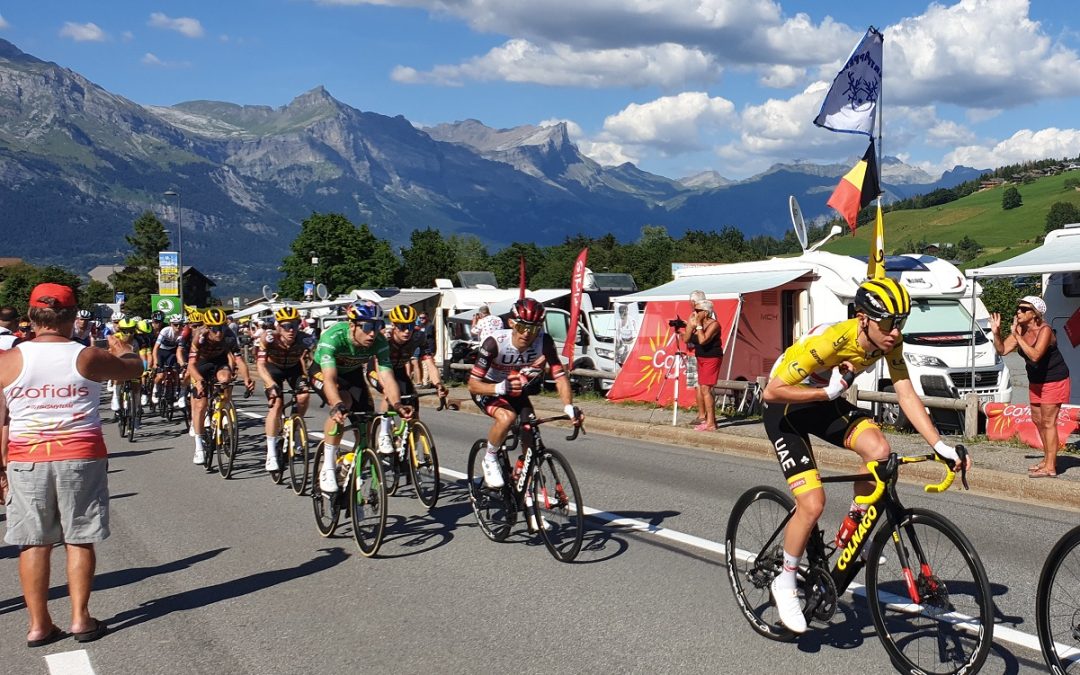 Watch live race coverage and the evening highlights show on ITV4 (in the UK).
Have you ever watched the Tour de France on TV, seen all of the motorhomes and campervans lined up alongside the route and thought you would love to do that yourself?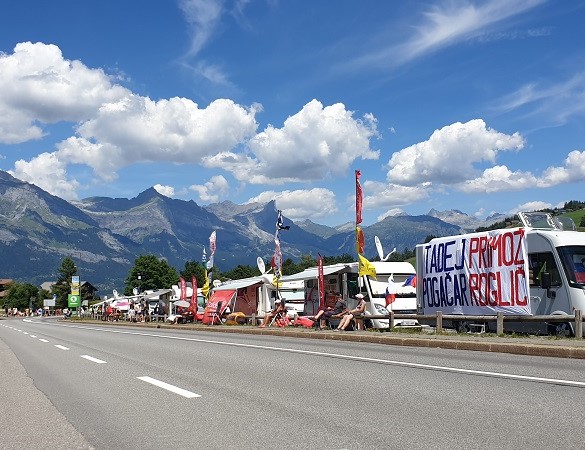 For some, cycling on the roads and mountain passes made famous by the Tour is high on their bucket list. It's where dreams are fulfilled! Or perhaps you'd just like to be part of the experience. You don't need to be a keen cyclist yourself to have a brilliant time following the Tour de France!
Top Tips for Following the Tour de France in a Motorhome
If this is something you feel inspired to do, here are some top tips about how to make the most out of following the Tour de France, as there is a lot more to it than you might think.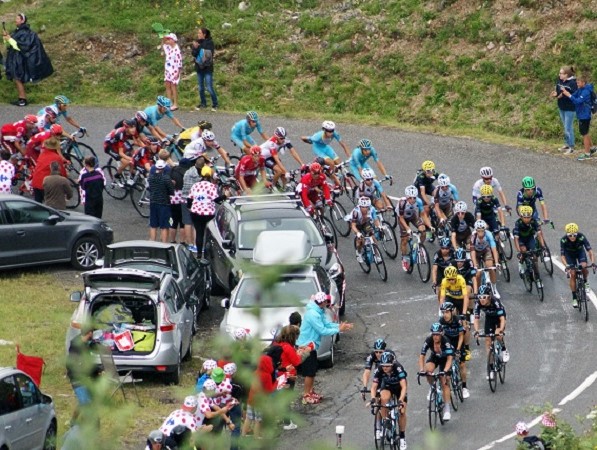 The main things to consider and plan for are:
Which Tour de France stages do you definitely want to watch?
Where on the stage would you like to watch from?
Where will you park the motorhome?
Road closures and stage timings
Special moments
Planning ahead to 2024
Essential items to take with you
Inspiration – hire a motorhome for the Tour de France
Top Tip – buy a copy of the Tour de France Race Guide ahead of time, as it will outline the exact route, as well as show the times the promotional caravan will come through, along with the race itself. It is available in many supermarkets in the UK and online – be aware they do sell out fast!
You can obviously buy the French version anywhere along the race as well – there are stalls selling Tour merchandise at race starts and finishes, plus there are large vans which play very loud music that come along the route ahead of the race, with people selling them from the back.
Which Stage(s) of the Tour de France Do You Definitely Want to Watch?
Whilst it may potentially be possible to watch every one of the 21 stages of the Tour de France – depending on the route of course – you might not be able to watch every stage from where you would ideally like to, due to road closures, timings and distances.
Therefore, you want to highlight the ones you absolutely MUST see, and then work around the rest. To help you decide, consider if you want to see a stage start (usually in a town or city), a stage finish, a sprint stage, a time trial, a mountain stage, somewhere with great scenery for you to park up etc.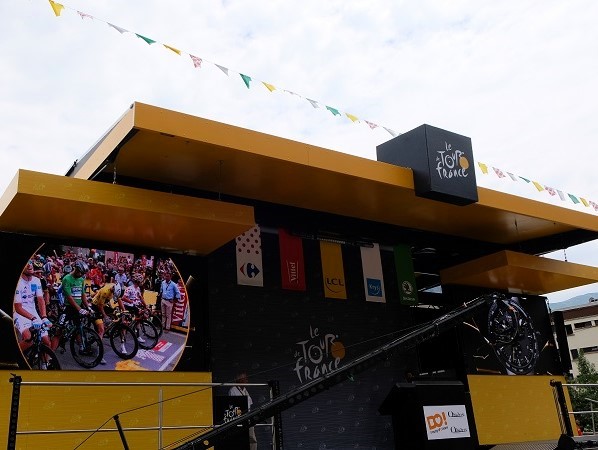 Here is the official Tour de France 2023 route map and stage list https://www.letour.fr/en/overall-route
The page for each stage contains information about the start/finish locations, the route map, the route profile and the essential timings for the race and the promotional caravan.
Where to Watch the Stage From at the Tour de France
Where you watch is crucial. If you're on a straight road, or even a mountain descent, the peloton will zoom passed you in a flash, so you might have waited hours for the race to come through, then it's over in a few seconds.
Where possible, you want to be either at the stage start, the stage finish, up on a mountain, or at the very least on a corner somewhere.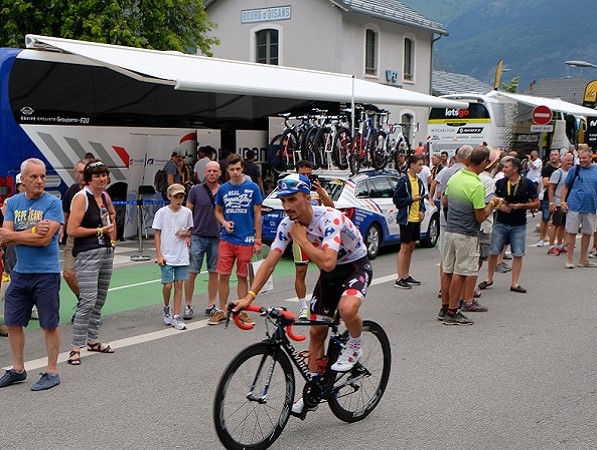 Stage Starts – watching the start of a race is great fun. There's usually a brilliant, party-like atmosphere and you can get pretty close to the team buses to watch the riders warm up on the rollers. There are usually promotional stalls giving away tons of freebies as well.
Top Tip – the roads will close several hours before the stage start and in some cases they may close the night before, so you will need to get there in plenty of time. I usually recommend getting there the night before, to ensure you get parked up relatively nearby and also to avoid the crazy traffic in the morning.
Also be aware of where you park in relation to the route, and to where you are heading to afterwards. This is because the roads may stay closed for some time after the stage has started whilst they clear everything away, so the road you need to exit on may be blocked. Therefore, where possible, park with your escape route in mind.
Stage Finishes – these are also really exciting! Again, there's usually a fantastic atmosphere, with hundreds, or even thousands of fellow cycling fans lining up to cheer on the victor.
You might not be able to park close by and will probably need to get to your spot by the side of the finishing straight several hours before the race finish, if you want to get a decent view. As above, you will need to plan for road closures and think about how to get out afterwards, as roads can often be closed for hours following a race.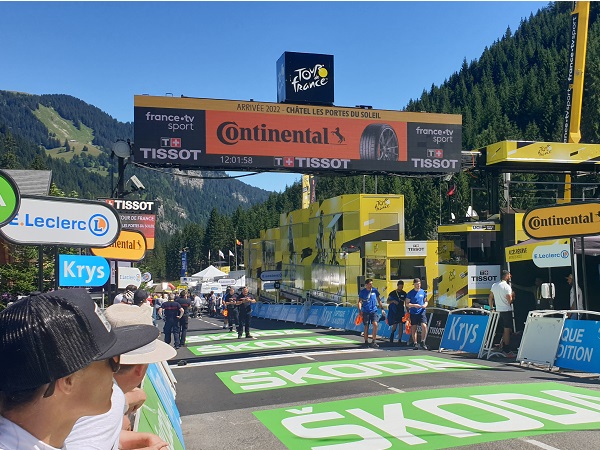 Top Tip – it's a good idea to have a folding chair or stool, a sun umbrella (or at the very least a hat of some kind), suntan lotion, and plenty of food and drink, because you could be waiting a very long time, often in intense heat with no shade.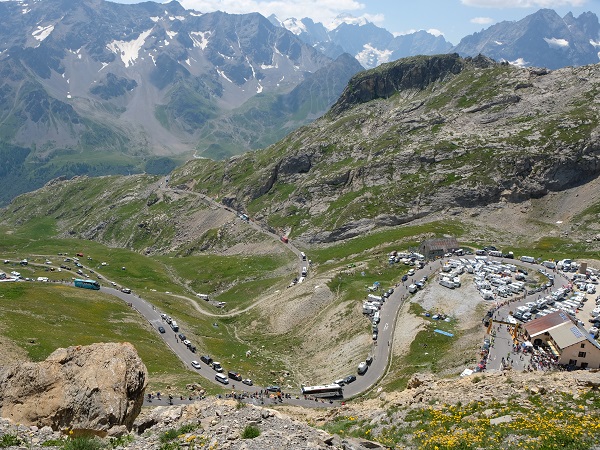 Summit Finishes – these are by far the best race finishes to watch in the Tour de France IMHO! Whereas a sprint finish is exhilarating, it is over in a nano-second due to the speed of the racing.
However, on a mountain top finish, the race is often really stretched out, and it's where you are most likely to see the GC (General Classification) battle play out, where riders are on their limits and every second counts. You'll often have stupendous views as well!
There are usually big screens at stage starts and finishes too, which is great for watching the whole of the race unfold whilst you are waiting for the action.
Otherwise, you can find yourself missing the bulk of the race and only catching the last few minutes of what could have been a race-defining stage further on down the mountain.
Where to Park Your Motorhome at the Tour de France
I can't stress how important it is to plan this in advance of the stage, because you could end up being parked miles away, and even missing the stage entirely if you get this wrong.
Just because a car park is shown on a map, it could be closed due to race officials/emergency services using it, or the route to it may be closed. This is why I usually arrive the evening before where possible, to suss everything out and find a good spot ahead of time.
Mountain Stages – these are my very favourite stages to watch for so many reasons.
The biggest advantage is that you get to park up your motorhome or campervan right by the side of the road where the race will pass.
Where possible, get there the day/night before (or even a couple of days before), park up safely on a bend partway up, with a great view across the mountains as well as down the road.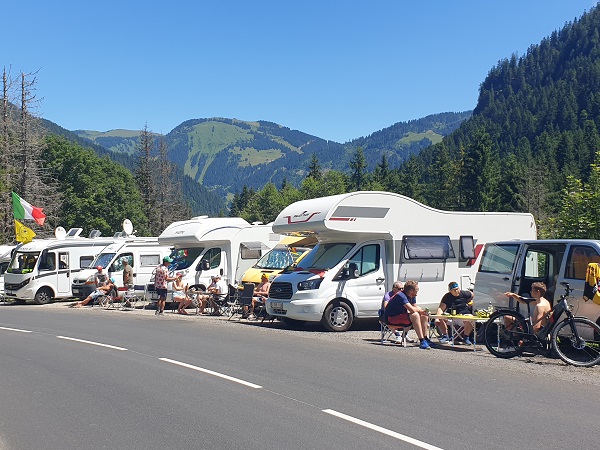 This is where all of the action will be, both before and during the race, and there's nothing like being literally inches away from your pro-cycling heroes as they struggle slowly up the mountain, especially on the bends. This is where races can be one and lost in a matter of seconds.
Even though it might say that a mountain pass closes at 8pm the evening before, that will only be from the start of the ascent. As long as you are on the ascent before it closes, you still have plenty of time to make your way up to your parking spot.
When I am watching a mountain stage, I often check out Google Earth first, to look out for good bends to park up on, so I know roughly where I am aiming for. Though I will usually have a few in mind because many people get there days in advance to nab the best spots.
Top Tip – put your seats out right by the roadside early on race day, as people will soon gather by the side of the road in front of you and won't care a bit that you've been waiting there since the night before.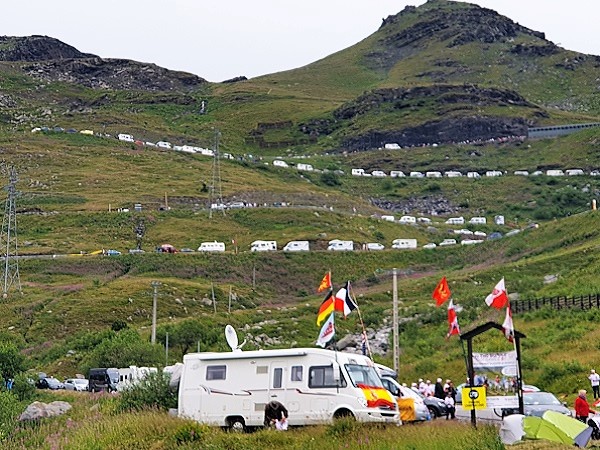 Planning where you're going to park up is especially important on a summit finish if it only has one road going up and down, particularly if you want to head off that evening to get to the next stage.
Even more so if you're heading to another mountain stage when the road might close by 8pm that night or earlier. If you're not careful, you will find yourself in a very long queue to get back down, where team buses/race vehicles and police vehicles take priority.
However, if it's a summit finish and there's a pass over the top of the mountain, simply park up on the other side and walk back up to the top, then you can get away quickly as soon as the presentations are over.
Top Tip – if you're a cyclist yourself, you may want to park at the bottom of the climb and cycle up to the summit finish (or get the telecabine if there is one), then you can come straight back down and be gone before everyone else.
During the Tour de France, the local Gendarmes (police) are much more tolerant of people parking their motorhome on the side of the road or up a mountain, as long as you do so safely, considerately and are not causing any obstruction. If not, you WILL get moved on!
Top Tip – it is often very difficult to get to watch the Tour de France via public transport, due to road closures and diversions during the race, although some places will put free shuttles on at certain times.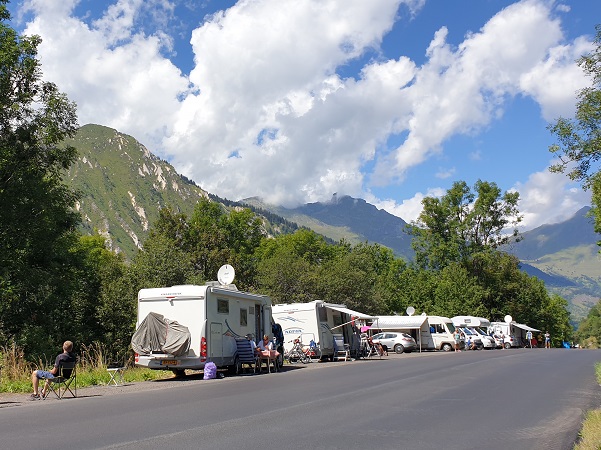 Therefore, don't rely on public transport as a means to get there from wherever you are thinking of parking up, and do your homework first.
Road Closures at the Tour de France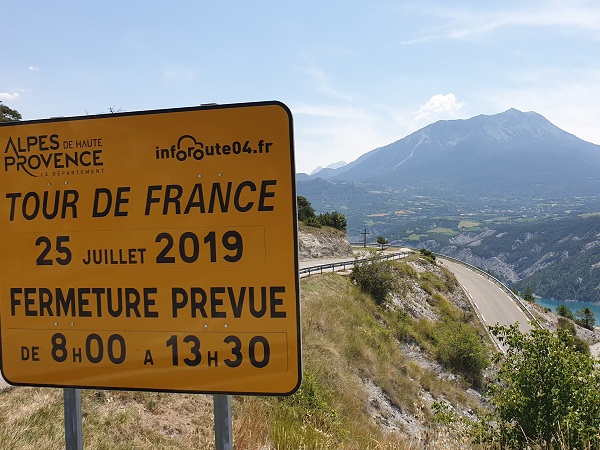 Roads are always closed to motorised traffic several hours ahead of a stage on a rolling basis as the race moves through, but at the start and finish there are definite things to watch out for, as mentioned above.
That is also true for certain mountain passes as well, but especially a mountain-top finish – quite often the roads will be closed the evening before.
Some major mountain passes may even be closed 2 or 3 days before the race is due to pass through!
Therefore, you always want to check the local road closures online ahead of time, to plan where you're going to watch each stage. You may need to miss watching one stage in order to be best placed up the mountain for the following one.
The regional websites and newspaper websites often have these details on the run up to the race, although they are mostly in French. Search for "Tour de France fermeture des routes" on Google.
The Tour de France organisers have also provided some great information to help with your trip planning here >>> 
Special Moments at the Tour de France
There's so much of the Tour de France experience that you have absolutely no idea about when watching it on the TV, or even just pitching up by the roadside an hour or two before the riders go passed. Yet what goes on behind the scenes can be some of the best parts of the event.
When you follow the race in a motorhome or campervan (or even car camping), you get to be part of all of the excitement that happens around the race, as well as during the race itself.
These have been some of my best memories from following the Tour de France over a number of years:
*** The Tour de France promotional caravan – this usually comes through around 2 hours before the race is due to come past.
Often the team buses all come through first, followed by a procession of promotional vehicles for each of the race sponsors whizzing past, many of which have crazy people in harnesses swinging on the back throwing out merchandise to the waiting crowds along the side of the road.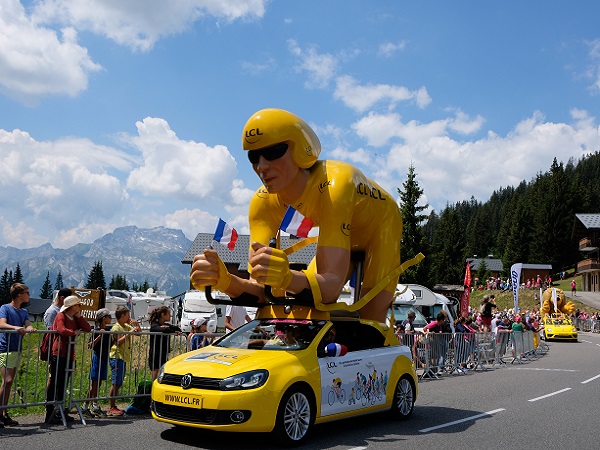 They give out things like caps, bags, flags, key rings (lots of key rings!), pens, Haribos, mini sausages (yes, real sausages!), cakes, magnets, water bottles from Vittel etc.
Beware though – this can be a bit like a bun fight, as people scrabble to grab whatever freebies they can get their hands on, so you need to have your wits about you.
Top tip – they always throw to the children, so if you've got kids, you stand a good chance. If not, don't stand near other people's kids, you won't get a thing! Find a space further along. Also, have a bag at the ready, to put all of your TdF booty in, to keep it safe.
IMPORTANT NOTE – the promotional caravan doesn't go on some narrow mountain passes or up to some mountain top finishes, it will take a detour. So if you're keen to see the caravan, check out the route and timings in the Tour de France race guide, oR on the Tour's website for the relevant stage.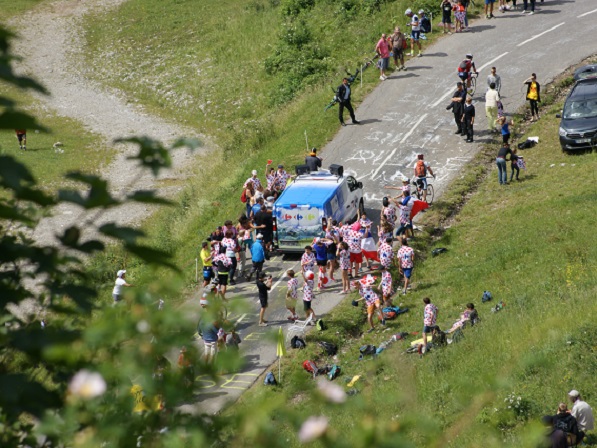 *** Parking up on the side of a mountain the night before the race, with hundreds of other fellow motorhomers, with a real party atmosphere.
*** Better still if it's a summit finish the next day, as late at night all of the trucks carrying the equipment for the next day's race thunder up the mountain in a long convoy, headlights flashing, horns blaring, followed by all of the other race vehicles, team buses (if allowed up the mountain) etc.
It really is a magical experience!
***If you're watching on the final mountain on a mountain stage, the company who is sponsoring the King of the Mountains competition will usually come round a couple of hours before the race is due to come through with free polka dot t-shirts, caps, bags etc for the crowds. Especially for people stationed on bends!
(The polka dot jersey is worn by the rider leading the King of the Mountains competition.) They'll pull over to the side of the road and you'll have to go up to the van to get your clobber. I have quite the polka dot collection 😉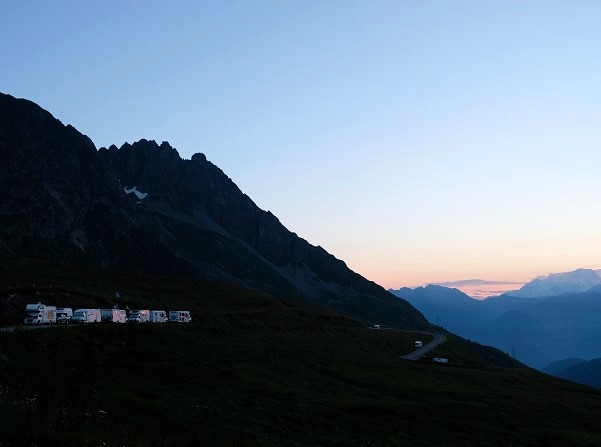 *** The anticipation when you first see and hear the TV helicopters rise above the mountains or speed through the valley, knowing that the race is not far behind.
*** The flush of excitement as the first police motorbikes come by, with the leading riders just behind.
*** Standing next to a team support person giving out bidons and musettes to the riders, and being given one of their precious water bottles and/or bags.
*** Collecting the official directional arrow signs once the race has passed by and putting them on your dashboard like a badge of honour! Though do wait until the entire race has gone through, you'd hate for any riders to get lost because you'd stolen the arrow showing the way.
*** Leaving one stage and driving in convoy with many other motorhomes, race vehicles, team vehicles, media vans etc to the next stage. It really makes you feel like you are part of the race.

Planning Ahead – the Tour de France 2024
If you're wanting to visit the Tour de France the following summer, the new route is usually released around the 3rd week of October, which is a very exciting time.
That's when you can start to think about the stages you would like to watch and get a basic idea of your own route. However, the exact details/route for each stage (and road closures) are not released until much closer to the race itself, so you can only really finalise the full details your trip at the last minute. Even then, be prepared to make last minute changes to your daily itinerary!
The 2024 Tour de France starts on Saturday 29th June in Florence, Italy (yes, some years, the Grand Depart is located in a different country!) and will finish in Nice, France on Sunday 21st July. This is a major departure from the usual finish on the Champs Elysees in Paris, which is where the Tour has finished for decades.
This gives you plenty of time to get planning!
Essential Items to Take to the Tour de France in a Motorhome
Passport, driving licence, insurance documents, V5C (or V103 Vehicle on Hire Certificate if taking a hire vehicle) – legal requirement
High vis vests for every person, 2 x safety triangles, spare bulb kit, headlight deflectors, first aid kit, UK sticker – legal requirement – https://www.drive-france.com/checklist/
Relevant pet documentation when travelling with pets
EHIC/GHIC card – travel insurance also recommended
European breakdown cover
Adapters for LPG tanks/cylinders if you have a refillable gas system
Spare gas cylinder if you have a replaceable system (gas fittings are different in France, so you can't just swap your cylinder with a French one)
Chocks to go under the wheels, especially for mountain stages!!
Sun umbrella/awning/gazebo
Lightweight folding chairs and a table or a picnic blanket
Lots of suntan lotion/lip balm/after sun lotion, hat/cap, sunglasses
Plenty of fresh water (enough to last several days away from civilisation when watching multiple mountain stages back-to-back)
SIM card with a large EU data allowance, to watch the Tour on your phone/devices
Camera, video camera, phone, in-car chargers, spare batteries, extra SD cards
Dash cam if you have one, for the incredible scenery
Fly swatter/fly spray
Top Tip – barbecues, firepits etc are banned in hot, dry areas in France in the summer, due to the risk of fire. If you do take a barbecue, make sure it is raised off the ground and won't damage the earth below, and only use when safe to do so.
Inspired to Take your Own Motorhome Road Trip to the Tour de France?
If this has inspired you to experience the Tour de France in a motorhome for yourself, or perhaps it is always something you have longed to do, you can hire a motorhome from Cumbria Motorhome Hire!
We offer EU hire for a minimum of 10 nights, at an additional rate of £12 per night and that includes your EU van insurance, breakdown cover, as well as an EU kit that includes everything you are legally required to have in your motorhome to drive in France. We will also apply for the V103 Vehicle On Hire Certificate on your behalf, at an additional cost.
However, for hires of 21 days or more, your EU cover is FREE!
Please contact us on 01229 588433 or 07500 298086, or email us at enquiries@cumbriamotorhomehire.co.uk for more information.
IMPORTANT NOTE – we get booked up quickly for July, so please book early – especially if you're wanting to hire for 10 days or more for a European trip. Dates for July 2024 are now available to book!
You can see our full availability and pricing HERE >>>
All images are © copyrighted by Sharon Crawford. Please do not use them without permission.