Leo – 2-4 Berth Motorhome 
Auto Trail F74 – moondust silver
Leo has a fixed double island bed at the rear that is always made up, plus a drop-down double bed at the front. Or you can have an alternative double bed at the front of the motorhome, made up from the dinette seating area.
This makes Leo a perfect choice for a couple, who would enjoy the extra space as a result of not having to make use of the double bed towards the front, or three or four people who have the two alternative sleeping options at the front.
Leo would also be great for families, who would appreciate the additional sleeping options.
Please see below for images, details of what's included, the layout, pricing and availability for this motorhome.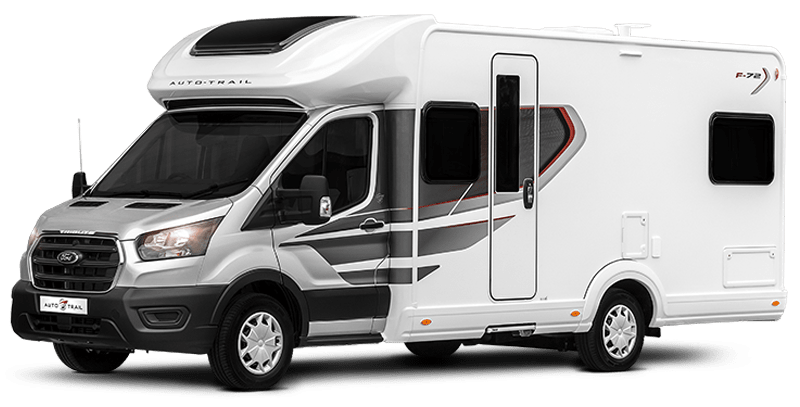 Auto Trail F74 - Details
Berth - 4 | Seatbelts - 4 | Dining - 4
Length - 7.32m (24ft) + bike rack | Height 3m (9'8") | Width - 2.35m (7'7")
Weight - 3500kg (can be driven on a standard driving licence)
Bed Sizes - Electric drop-down bed: 1.23 x 1.93 (4' x 6'3"), Front Double: 1.49m x 2.11m (4'8" x 6'9"), Rear Double Fixed Island Bed: 1.30m x 1.77m (4'3"x 5'8")
Fresh water tank - 100L | waste water tank - 80L | refillable LPG gas cylinder
Fuel tank capacity - 70L
Auto Trail F74 - Features
Based on the Ford Transit Trend, with 6 speed manual gearbox, 170 BHP diesel engine, power adjustable heated mirrors, automatic headlamps, front fog lamps, heated front windscreen with low washer tank warning, rain sensing wipers, cab air conditioning, Zenec Xzent 9.5" LCD display touch screen head unit - DAB radio with iPod connection and Bluetooth hands-free system, colour reversing camera and pleated blinds to cab window. This motorhome has a spare wheel.
The motorhome comes with:
- Flexi lounge featuring convertible travelling seats with full 3-point seatbelts, which convert into an extra double bed at night
- Swivel captains seats
- Kitchen with sink, oven/grill/hob, 142 litre fridge with 15L freezer box. We provide crockery, pots, pans and cutlery
- Separate toilet and shower in the rear bedroom
- All doors and windows are double glazed, fitted with fly-screens and blackout blinds. The bedroom has curtains too
- Gas air-blown heating, for a comfortable stay any time of the year
- Air Conditioning in-cab and the main habitation area
-  21.5" Smart TV with USB/HDMI inputs
- Satellite TV
- External gas BBQ point (BBQ not supplied)
- 4x Bike Rack
We include most of the standard things that you would expect. You need to bring your clothes, towels, sleeping bags/bedding, personal items & toiletries, and anything else you think you might need for your holiday.
What's Included
- Hire of an Auto Trail F74 motorhome for up to 4 people
- Insurance for 1 driver between the age of 21 - 79 (meeting standard requirements) Most companies only offer over 25s
- Breakdown cover (UK and Europe)
- Unlimited mileage
- Free collection from Ulverston train station or free parking for 1 vehicle at our premises for the duration of your hire
- Comprehensive handover at the start of your hire
- Full cylinder of propane gas
- Full tank of fresh water
- Membership of Camping and Caravanning Club during your hire More Information
- Brit Stops guide More Information
- Bike Rack for 4 bikes
- Crockery, pans, pots and cutlery for 4 people 
- Electric hook-up cable, fresh water hose, leveling blocks
Optional Extras
- Take the motorhome abroad - EU hire charge £12 per day (minimum 10 night hire)
Includes: - EU insurance for 2 drivers (with green card) - EU breakdown cover - EU Driver's Kit (high-vis vests, warning triangle, first aid kit, headlamp deflectors and GB sticker)
Hiring Information
Our handover days are typically Friday, Saturday and Monday, although you can start and finish your hire on any day. Hires are for a minimum of 2 nights or longer.
The motorhome will be available on the day of collection from Ellie's Hill Foot Garden Centre, Ulverston, LA12 7SE at 2.00 pm and must be delivered back to Ellie's Hill Foot Garden Centre by 10.00 am on the last day of hire. For Prices and Availability please call us on 07500 298086 or enquire via email at enquiries@cumbriamotorhomehire.co.uk so that we can check availability and we will then send you a quote for your selected dates.
Payment Methods
We accept online payment with major debit and credit cards through PayPal and over the telephone, and bank transfer.
Damage/Security Bond
Damage/Security Bond of £1000 (cleared and traceable) is payable on all hires (£1250 if you aged 23 or 24, and £1500 if you are aged 21 or 22, and/or are attending a festival/special event). This will be refunded to you on the return of the motorhome providing that it is in the same condition as it was when it was hired to you. This must be paid prior to all hires by credit or debit card only.
This will be refunded to you within 7 days after returning the motorhome, subject to their not being any damage, fines, or third-party claims, and it may take 5 - 7 working days after that to show up in your account.
For Each Hire - You Must Provide:
- Damage/Security Bond of £1000 - 1500 (cleared and traceable) - Each driver's license (both parts where relevant) - 2 recent proofs of address dated in the past 3 months - Copy of passport/photo ID (if you have one). You must also complete a Rental Agreement form and Booking Terms and Conditions for every hire
This information is required for insurance purposes and will not be used for any other purposes.
Start
Date

End
Date

2-3 Nights

4 Nights

5 Nights

6 Nights

7 Nights

8 Nights

9 Nights

10 Nights

11 Nights

12 Nights

13 Nights

14 Nights

21 nights
Free EU

28 nights
Free EU

01/04/23

30/04/23

£359

£429

£499

£569

£639

£709

£779

£849

£919

£989

£1059

£1129

£1584

£2004

01/05/23

30/06/23

£499

£599

£699

£799

£899

£999

£1099

£1199

£1299

£1399

£1499

£1599

£2264

£2894

01/07/23

31/08/23

£569

£689

£809

£929

£1049

£1169

£1289

£1409

£1529

£1649

£1769

£1889

£2729

£3565

01/09/23

30/09/23

£499

£599

£699

£799

£899

£999

£1099

£1199

£1299

£1399

£1499

£1599

£2264

£2894

01/10/23

31/10/23

£359

£429

£499

£569

£639

£709

£779

£849

£919

£989

£1059

£1129

£1584

£2004

01/11/23

01/01/24

£355

£385

£415

£445

£475

£525

£575

£625

£675

£725

£775

£825

£1175

£1490
If you would like a shorter or longer hire, please don't hesitate to contact us by phone or email, and we would be delighted to give you a bespoke quote for your desired dates.
IMPORTANT NOTE – unlike most other motorhome hire companies, the longer you hire one of our motorhomes for, the lower the nightly rate becomes.
Once you have selected your dates and number of nights, the payment invoice on the following page will show the base price at the full nightly rate, followed by the discount applied.
Please see the Total to Pay at the bottom of the invoice for the actual total hire cost for your vehicle, less the multi-day hire discount.
Contact Us
Cumbria Motorhome Hire
Ellie's Hill Foot Garden Centre
Ulverston, Cumbria, LA12 7SE
United Kingdom
Tel : 01229 588433 / 07500 298086
Email : enquiries@cumbriamotorhomehire.co.uk
Office Opening Hours
Monday - Saturday: 09:00 - 17:00
Sunday/Bank Holidays: 10:00 - 16:00
We are available by phone and email at all other times.