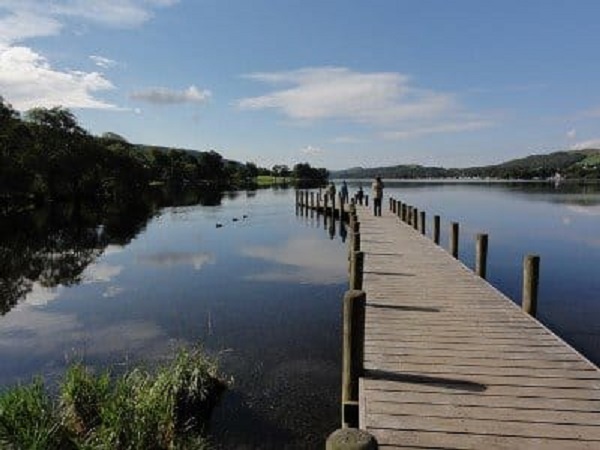 Popular Places to Visit in the Lake District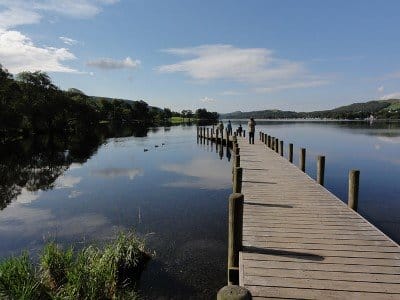 Coniston Water
Coniston Water is the third largest water in the Lake District at around 5 miles long by half a mile wide, situated half a mile from the village of Coniston and beneath the towering mountain of Coniston Old Man it really is the perfect place to enjoy any number of outdoor activities both on land and water. Boats and Bikes can be hired from Coniston Boating Centre, situated in the village, which also boasts some very nice pubs, shops and eateries.  Other attractions that may be of interest in the Coniston area are Brantwood, the residence of artist John Ruskin with its' fabulous gardens and views to enjoy, with many exhibitions detailing the history of Coniston the Ruskin Museum is also a very interesting place to visit.
Coniston – Useful Links
Coniston Boating Centre Tel – 015394 41366
Brantwood – The World of John Ruskin Tel – 015394 41396
Ruskin Museum Tel – 01539 441164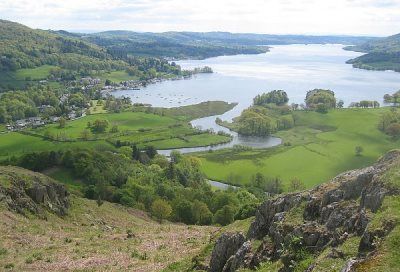 Lake Windermere
Lake Windermere is a ribbon lake, situated just over a mile from the town of Windermere and is the largest natural lake in England at around 11 miles long and 219 feet deep. A large range of water sports are enjoyed on the lake including waterskiing, sailing, canoeing and kayaking and many more, for a perhaps more relaxing experience you can take a cruise of the lake with Windermere Lake Cruises who offer a number of fantastic packages. The town of Windermere although quite small is a busy place with  a variety of local shops as well as a Booths supermarket.
Windermere – Useful Links
Windermere Lake Cruises Tel – 015394 43360
Places to Stay
Park Cliffe Holiday Park Tel – 015395 31344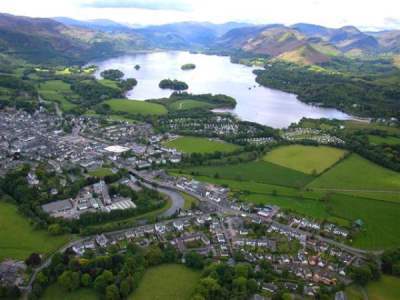 Keswick
The market town of Keswick is an award winning destination, featured as the ninth best destination in the Travelers Choice awards. Keswick is surrounded by six lakes including the island studded, mile wide Derwentwater and Bassenthwaite Lake, which is famous for being the only actual lake in The Lake District. Also home to a number of peaceful and picturesque valleys such as Borrowdale that boast an array of beautiful scenery with a mixture of vast green expanses, woodland and traditional style villages, hamlets and buildings, which make it the perfect place for hiking and landscape photography. Some of the most breathtaking mountains can also be found in Keswick and the North Lakes area, which include The Scafells, Helvellyn and Skiddaw. There are many routes to walk in Keswick and some guided walks are available organised by the Lake District National Park
Keswick – Useful Links
Walking Routes in and around Keswick Tel – 017687 75738
Events and guided walks calendar
Places to Stay
Castlerigg Caravan and Camping Park Tel – 017687 74499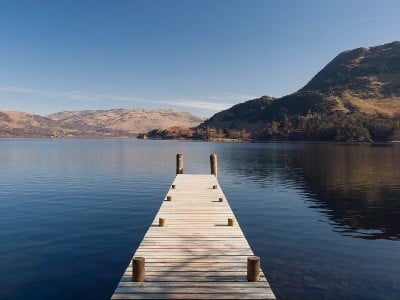 Ullswater
Ullswater is the second largest lake in the Lake District being approximately 9 miles long and 0.75 miles wide with a depth of 197 feet, the narrow ribbon lake is recognised by many as being the most beautiful lake in the Lake District. There are many attractions and things to do around Ullswater, which is located near the market town of Penrith, some  places to visit are Askham Hall Gardens & Cafe where you can enjoy some of the finest local produce prepared by head chef Richard Swale, Also The Alpaca Centre Shop where you can view the Alpacas in their paddocks and purchase some of the garments created using their wool. Of course you can get closer to the lake itself by climbing aboard an Ullswater Steamer for a fantastic cruise of the lake.
Ullswater – Useful Links
Askham Hall Gardens & Cafe Tel – 01931 712350
Alpaca Centre Shop Tel – 01768 891440
Ullswater Steamers Lake Cruises Tel – 01768 482229
Places to Stay
The Quiet Site Tel – 07768 727016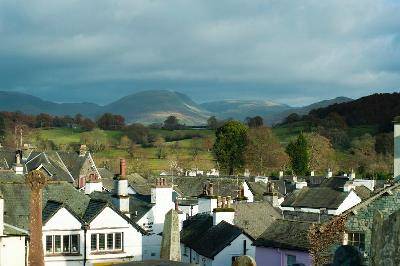 Hawkshead
Hawkshead is a village situated in the South Lakeland area, west of Lake Windermere, a charming village to be explored on foot due to its' car-free village centre (there is a car park on the outskirts). Hawkshead is steeped in history and has strong connections to William Wordsworth and Beatrix Potter, in fact one of the main attractions is the The Beatrix Potter gallery, which features original artwork exhibitions plus information about her life outside of writing, such as her work as a farmer and conservationist and her legacy that lives on today. With the cobbled streets, archways and alleyways Hawkshead is a fantastic example of a traditional Lake District village and there are many inns, tearooms and gift shops to enjoy also.
Hawkshead – Useful Links
Beatrix Potter Gallery
Useful Websites
english-lakes.com – Some fantastic information and photography covering all areas of the Lake District

Places to Visit |

Places to Stay