Lola has a fixed double bed at the rear that is always made up plus a dropdown double bed towards the front, which is 3ft 5 off the ground under which is an optional 5th single bed, making them a perfect fit for a number of groups from a couple who wish to travel in more luxury with the extra space afforded by only making use of the fixed double bed or up to five people who would make use of all of the available beds.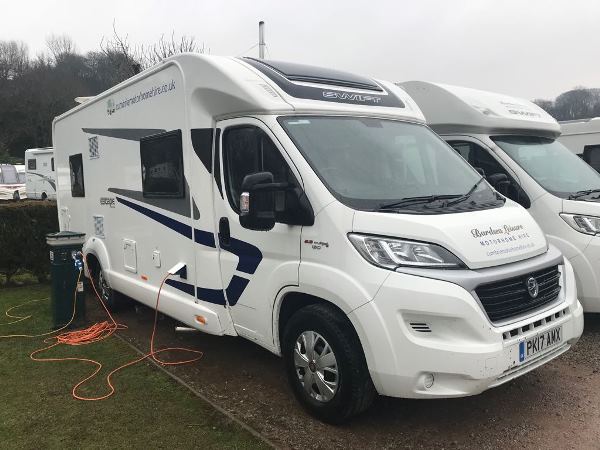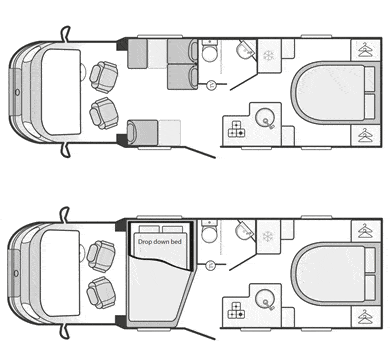 Swift Escape 694 Details
Berth - 5
Seatbelts - 5
Length - 24ft 4 (7.41m )
Weight - 3500kg
Bed Sizes - Front Double: 6ft 10 x 4ft 7 / 3ft 5 (2.09m x 1.39m / 1.03m)
Rear Double: 6ft 0 x 4ft 4 (1.83m x 1.33m)
Swift Escape 694 Features
- TV with USB/HDMI inputs
- Kitchen with sink, oven/grill/hob, fridge with freezer box, and microwave. We provide crockery, pots, pans and cutlery
- Onboard washroom with toilet and shower
- All doors and windows are fitted with flyscreens and blackout blinds. The main living area has curtains too.
- Bike Rack
- Double glazed window units
- Air Conditioning
- Freeview
- Freesat
- Satellite Connection (so you can plug in your skybox)
- Solar Panel
We include most of the standard things that you would expect. You need to bring your clothes, towels, sleeping bags/bedding (for the fixed bed), personal items & toiletries and anything else you think you might need for your holiday.
What's Included
- Hire of a new Swift Escape 694 motorhome for up to 5 people
Insurance for 1 driver over the age of 21 (meeting standard requirements) Most companies only offer over 25s
- Breakdown cover
- Unlimited Mileage
- Free collection from Ulverston train station or free parking for 1 vehicle at our premises for the duration of your hire.
- Comprehensive handover at the start of your hire
- Full cylinder of propane gas
- Use of Truckers UK road map during your hire
- Membership of Camping and Caravanning Club during your hire More Information
- Brit Stops guide More Information
- Bike Rack for 4 bikes
- Crockery, pans, pots and cutlery for 4 people
- Windbreaker - Free of charge
EU Hire Charge £125 (minimum 10 nights)
Includes:
- EU insurance for 2 drivers
- EU breakdown cover
- Headlight deflectors
- One time use breathalysers
- Use of the All the Aires France or All the Aires Spain guide books (as appropriate)
WITH ALL HIRES YOU GET OUR ASSISTANCE FROM BOOKING RIGHT THROUGH TO THE END OF YOUR HOLIDAY.
THIS INCLUDES A DEDICATED 24 HOUR PHONE NUMBER DURING YOUR HIRE SHOULD YOU NEED OUR HELP
Optional Extras
- Take the motorhome abroad - EU hire charge £12 per day (minimum 10 night hire)


Hiring Information
Our handover days are typically Friday and Monday, the motorhome will be available on the day of collection from Hill Foot Garden Centre at 2.00 pm and must be delivered back to Hill Foot Garden Centre by 10.00 am on the last day of hire. For Prices and Availability please call us on 07825 956 061 or enquire via our contact form so that we can check availability and we will then send you a quote for your selected dates.
Payment Methods
We accept online payment with major debit and credit cards through Paypal and over the telephone, bank transfer and cheque
Damage/Security Bond
Damage/Security Bond of £600 (cleared and traceable) is payable on all hires (This will be refunded to you on the return of the motorhome providing that it is in the same condition as it was when it was hired to you)
This must be paid prior to all hires.
For Each Hire - You Must Provide
- Damage/Security Bond of £600 (cleared and traceable)
- Each driver's license (both parts)
- 2 recent utility bills dated in the past 3 months
- Copy of passports
You must also complete a rental agreement form every hire
This information is required for insurance purposes and will not be used for any other purposes. This documentation can be supplied to us on the collection of the motorhome (please ensure that driving licenses and passports are valid and in date.
Availability and Pricing
If you would like a shorter or longer hire please don't hesitate to contact us by phone or email and we would be delighted to give you a bespoke quote for your desired dates.