George – 2-5 Berth Motorhome
Swift Escape 685
George has a large U-shaped lounge at the rear which can be made into a huge king sized bed, plus a drop-down double bed towards the front, which is 3ft 5″ off the ground, under which can be an optional 5th single bed made up from the dining seating.
This makes George a perfect choice for those who are looking for flexible sleeping options – for example a couple who might enjoy the extra separate living space if they use the drop-down bed to sleep on, or they could simply enjoy the additional space during the day and make up the bed at night. Alternatively, if they would rather not make up the bed each evening, and would prefer a large fixed bed all of the time, the bed can be kept made up and use the dining seating to relax on.
It is also great for three or four people who can quickly make up the rear lounge into a bed at night, as well as for families who would appreciate the additional sleeping options, but would also enjoy having more living space to spread out into during the day. Especially good for those rainy days when everyone is inside!
Please see below for images, details of what's included, the layout, pricing and availability for this motorhome.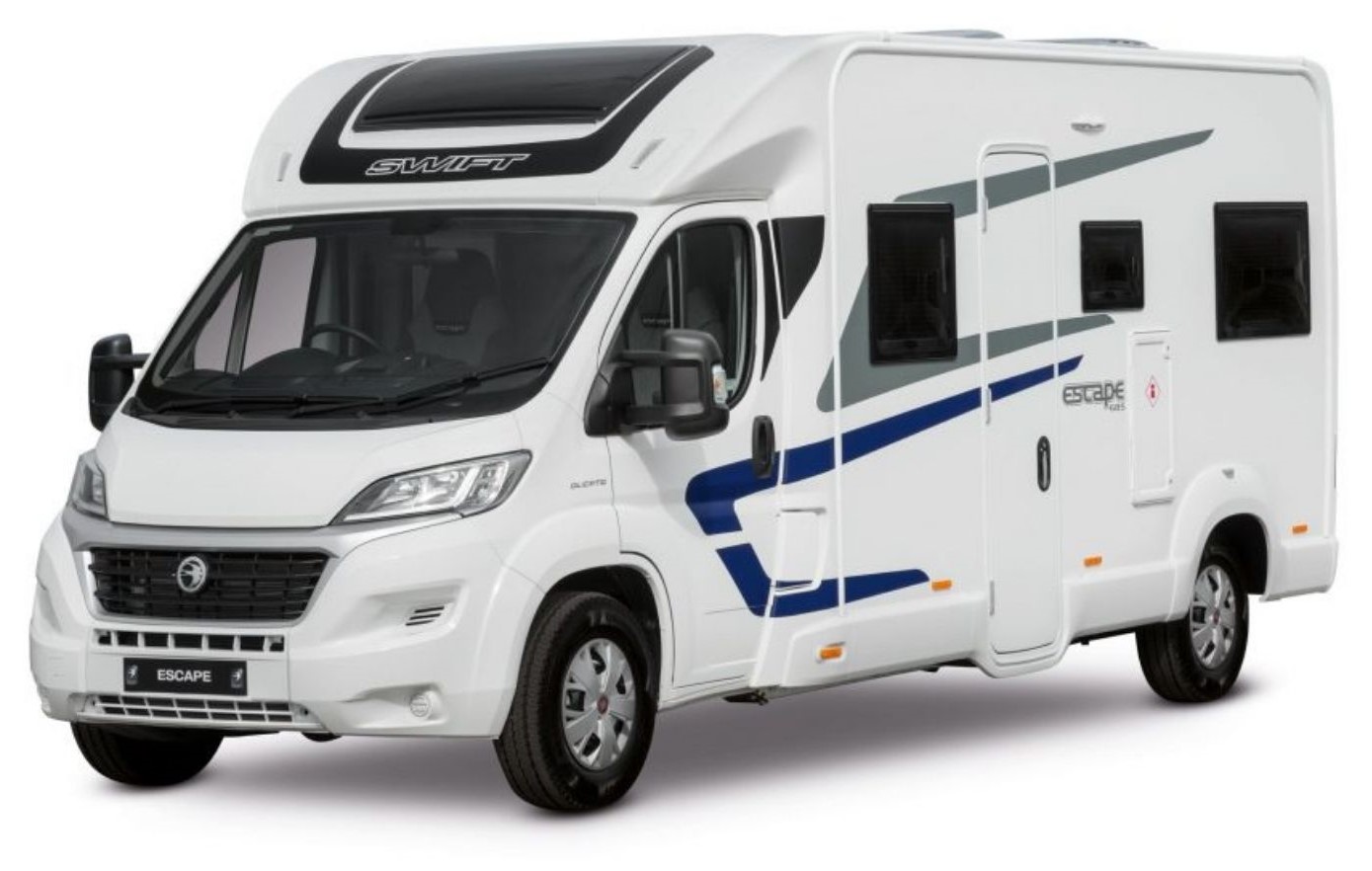 Swift Escape 685 Details
Berth - 5 | Seatbelts - 5
Length - 6.9m | Width - 2.31m | Weight - 3500kg
Bed Sizes:
Rear Double - 208cm x 145cm
Drop Down Bed - 193cm x 127cm
Swift Escape 685 Features
- TV with USB/HDMI inputs - Kitchen with sink, oven/grill/hob, fridge with freezer box, and microwave. We provide crockery, pots, pans and cutlery - Onboard washroom with toilet and shower - All doors and windows are fitted with fly-screens and blackout blinds - Double glazed window units 
We include most of the standard things that you would expect. You need to bring your clothes, towels, sleeping bags/bedding (for the fixed bed), personal items & toiletries and anything else you think you might need for your holiday.
What's Included
- Hire of a Swift Escape 685 motorhome for up to 5 people
- Insurance for 1 driver aged between 21 - 79 (meeting standard requirements) Most companies only offer over 25s
- Breakdown cover
- Unlimited Mileage
- Free collection from Ulverston train station or free parking for 1 vehicle at our premises for the duration of your hire
- Comprehensive handover at the start of your hire
- Full re-fillable cylinder of propane gas
- Membership of Camping and Caravanning Club during your hire More Information
- Brit Stops guide More Information
- Crockery, pans, pots and cutlery for 5 people.
- Electric hook-up cable, fresh water hose, levelling blocks
Optional Extras
- Take the motorhome abroad - EU hire charge £12 per day (minimum 10 night hire)
Includes: - EU insurance for 2 drivers (with green card) - EU breakdown cover - EU Driver's Kit (high-vis vests, warning triangle, first aid kit, headlamp deflectors and UK sticker)
Hiring Information
Our handover days are typically Friday, Saturday and Monday, although you can start and finish your hire on any day. Hires are for a minimum of 2 nights or longer.
The motorhome will be available on the day of collection from Ellie's Hill Foot Garden Centre, Ulverston, LA12 7SE at 2.00 pm and must be delivered back to Ellie's Hill Foot Garden Centre by 10.00 am on the last day of hire. For Prices and Availability please call us on 07500 298086 or enquire via email at enquiries@cumbriamotorhomehire.co.uk so that we can check availability and we will then send you a quote for your selected dates.
Payment Methods
We accept online payment with major debit and credit cards through PayPal and over the telephone, and bank transfer.
Damage/Security Bond
Damage/Security Bond of £1000 (cleared and traceable) is payable on all hires (£1250 if you aged 23 or 24, and £1500 if you are aged 21 or 22, and/or are attending a festival/special event). This will be refunded to you on the return of the motorhome providing that it is in the same condition as it was when it was hired to you. This must be paid prior to all hires by credit or debit card only.
This will be refunded to you within 7 days after returning the motorhome, subject to their not being any damage, fines, or third-party claims, and it may take 5 - 7 working days after that to show up in your account.
For Each Hire - You Must Provide:
- Damage/Security Bond of £1000 - 1500 (cleared and traceable) - Each driver's license (both parts where relevant) - 2 recent proofs of address dated in the past 3 months - Copy of passport/photo ID (if you have one). You must also complete a Rental Agreement form and Booking Terms and Conditions for every hire
This information is required for insurance purposes and will not be used for any other purposes.
Motorhome hire rates for 2024 will be held at 2023 prices until 31st August 2023
Start
Date

End
Date

2-3 Nights

4 Nights

5 Nights

6 Nights

7 Nights

8 Nights

9 Nights

10 Nights

11 Nights

12 Nights

13 Nights

14 Nights

21 nights
Free EU

28 nights
Free EU

01/04/23

30/04/23

£359

£429

£499

£569

£639

£709

£779

£849

£919

£989

£1059

£1129

£1584

£2004

01/05/23

30/06/23

£499

£599

£699

£799

£899

£999

£1099

£1199

£1299

£1399

£1499

£1599

£2264

£2894

01/07/23

31/08/23

£569

£689

£809

£929

£1049

£1169

£1289

£1409

£1529

£1649

£1769

£1889

£2729

£3565

01/09/23

30/09/23

£499

£599

£699

£799

£899

£999

£1099

£1199

£1299

£1399

£1499

£1599

£2264

£2894

01/10/23

31/10/23

£359

£429

£499

£569

£639

£709

£779

£849

£919

£989

£1059

£1129

£1584

£2004

01/11/23

01/01/24

£355

£385

£415

£445

£475

£525

£575

£625

£675

£725

£775

£825

£1175

£1490
If you would like a shorter or longer hire, please don't hesitate to contact us by phone or email, and we would be delighted to give you a bespoke quote for your desired dates.
IMPORTANT NOTE – unlike most other motorhome hire companies, the longer you hire one of our motorhomes for, the lower the nightly rate becomes.
Once you have selected your dates and number of nights, the payment invoice on the following page will show the base price at the full nightly rate, followed by the discount applied.
Please see the Total to Pay at the bottom of the invoice for the actual total hire cost for your vehicle, less the multi-day hire discount.
Contact Us
Cumbria Motorhome Hire
Ellie's Hill Foot Garden Centre
Ulverston, Cumbria, LA12 7SE
United Kingdom
Tel : 01229 588433 / 07500 298086
Email : enquiries@cumbriamotorhomehire.co.uk
Office Opening Hours
Monday - Saturday: 09:00 - 17:00
Sunday/Bank Holidays: 10:00 - 16:00
We are available by phone and email at all other times.